Create together THE solution to meet the industrial challenges of our customers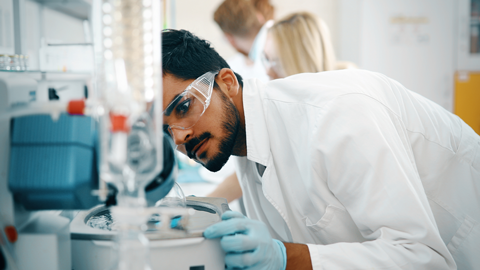 Each of our industrial customers has a unique production process. 
Therefore, a "universal" standard product would be contrary to our company philosophy: to provide a customized solution to the problems and requirements of our customers by offering them a product perfectly adapted to their processes. 
ADDEV Materials combines the performance of its materials with the collective intelligence of its employees to respond in a sustainable way to the global technological challenges of the most innovative markets.
Recommending high-performance materials (adhesive tapes, technical film foams, papers & fibers, adhesives & sealants, chemicals, paints) tailored to their needs, thanks to our partnerships with the world's leading manufacturers (3M™, tesa ™, Dupont™..), and our technical expertise 
Customizing these innovative solutions through our wide range of converting technologies (die-cutting, adhesive bonding, lamination, custom packaging) 
Integrating differentiating and high value-added services (digital services, kitting, on-site delivery, storage and inventory management...) to our entire offering 
"Thousands of solutions are available to your business, one of them is optimal, we propose to create it together."
Collective intelligence for value creation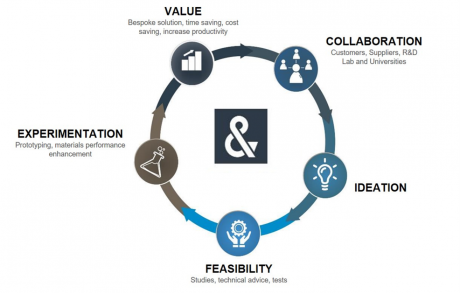 In order to move towards ever greater innovation, we have chosen to open up the company to better reflect with all of our stakeholders, customers, suppliers, but also with all of our internal departments, sales, marketing, operations, etc. 
We are convinced that by bringing together a wide range of expertise, we can make tomorrow's projects a reality.  
By involving our stakeholders in a collaborative innovation approach, we mobilize ideas and desires to create common projects and anticipate the future needs of our clients. 
We help our clients become more efficient, more competitive and able to conquer new markets.
1. Collaborating with our stakeholders
We invite our stakeholders, customers, employees, suppliers, but also research laboratories and universities to participate in meetings to develop new joint projects.
2. Developing creative synergies
Our innovation committees enable us to develop creative synergies that generate new ideas. In addition to these high points, our internal teams, in contact with our industrial customers, explore on a daily basis what our new areas of innovation might be.
3. Experimenting
Our laboratories in France (42) and in the USA (CA) are equipped with fully integrated state-of-the-art equipment that allows us to experiment with our solutions to validate their implementation.
TECHNICAL ADVICE
OPTIMIZATION OF MATERIAL PERFORMANCE
TECHNICAL STUDIES
PROTOTYPAGE

4. Enhance
Our innovative solutions allow us to anticipate the challenges of tomorrow. By turning our innovative projects into concrete realities, we enable our partners to become more competitive and more efficient: better productivity, conquest of new markets.
"Converting industrial challenges into sustainable materials solutions: supporting our customers in their energy transition. 
Our customers are faced with technological and technical challenges that must integrate today's social and environmental issues in order to be innovative and efficient tomorrow.
In this complex, fast-changing world, we act as a facilitator, designing and manufacturing customized, sustainable material solutions: positioned at the heart of the value chain, we are a key player in the responsible transformation of the industry. Major market trends such as low-carbon mobility, energy efficiency to combat climate change, and health and well-being are reflected in all our businesses. Our thinking covers the entire product life cycle and value chain, from sourcing and manufacturing to delivery and recycling.
By putting innovation at the service of these challenges, we translate our raison d'être into action: transforming the industrial challenges of each of our customers into sustainable solutions to optimize resources and create more value with less material.