In 2022, ADDEV Materials in Poland set up an integrated green energy supply system, consisting of the installation of photovoltaic (PV) panels and a modern electricity consumption measurement system. The metering data is collected in the cloud, and can be accessed at any time from anywhere in the world via a dedicated application.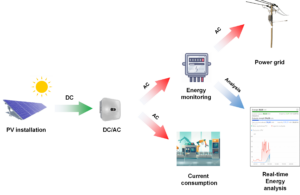 Once this analysis had been carried out, we were able to implement a number of organisational and operational changes to maximise the company's energy efficiency.
In practice, this means :
Identifying sources of high energy consumption (machines, etc.)
Identification of unnecessary energy-intensive operations (rationalisation)
Identifying poor energy consumption habits
For example: by analysing the actual running time of the packaging machines - which, due to the presence of heating elements, are characterised by very high electricity consumption - we realised that these machines were switched on by default at the start of the day and switched off at the end of the day, whereas their actual running time was only a few hours. The analysis enabled the packaging process to be planned so that the machines were only switched on when they were being used. In addition, certain hours of use were also optimised to correspond to what is known as "self-consumption of the photovoltaic installation", i.e. during its greatest productivity (direct use of 100 % of the energy produced by the photovoltaic installation instead of 80 % from the energy supplier).
Another practical solution was to adapt the operation of appliances to the real needs of the people in the company: motion sensors to turn lights on/off; optimised operation of heating, ventilation and air conditioning equipment. In addition, it was possible to identify and effectively eliminate bad office habits associated with leaving equipment on when not in use (introduction of a compulsory standby mode for computers and screens).
The current system of photovoltaic panels has reduced electricity consumption costs by up to 40 % (taking into account the same season for energy demand). Additional savings resulting from the use of the monitoring system and optimisation of energy consumption amount to 5-8 % (image 2).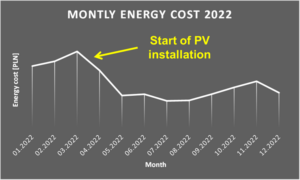 This initial experience of controlling our electricity consumption has enabled us to appreciate the practical potential of these systems. This is undoubtedly just the start of optimising our energy management. Other, more advanced improvements will be possible, such as the precise supervision of production operations or the diagnosis of the technical state of equipment.
In the near future, this type of approach to energy management will help us to implement new provisions, particularly with regard to the 14001 environmental standard. This will undoubtedly be another step towards strengthening the trust our customers place in us as a supplier.